EQUATION FOR HUMANITY [ I + U = US ] - 2020


Autograph commissioned Ohiri to create a new work in response to the wider context of the Covid-19 pandemic for their timely project: Care | Contagion | Community | Self & Other. In the series Equation for Humanity (2020) Ohiri proposes what he describes as 'a sociological equation for humanity - a formula that explores what it means to be human'.
During national lockdown on his daily walks, Ohiri collected stones from the local meadow where he lives and inscribed the message: I + U = US onto them - a poignant response to the times we are living in. At the core of his work is an optimistic sentiment that highlights the importance of how we care for one another as a society - taking into account the challenges we face beyond the global pandemic, from on-going conflicts, struggles for human rights to international climate change.

The work is part of Autograph's public collection and is contextualised through an in conversation with Autograph's Bindi Vora entitled: 'What it Means to Be Human: In Conversation with Karl Ohiri' and a commissioned short reflective essay by writer and curator Hansi Loren Gordon titled: The Oneness of Things.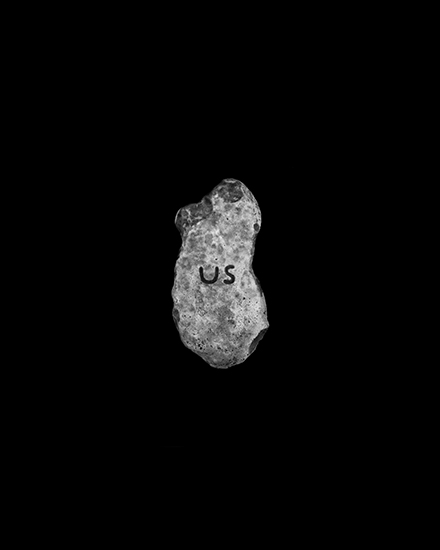 US
Digital Black & White Fibre-Based Gloss Print
11 x 8.8 inches on 12x10 paper