LAGOS STUDIO ARCHIVES (Ongoing)
Lagos Studio Archives is a curatorial/preservation project that consists of thousands of 35mm negatives documenting Lagos studio portraiture from the 1970s to the millennium and beyond. The archive represents a large demographic of Lagos inhabitants and contains a vast range of human emotions from couples in love to fantasy based projections of the self all played out for the camera.
The project started after the artist discovered that archives were being burnt, destroyed and discarded by a previous generation of photographers who were part of a shift from analogue to digital photography, many opting for the speed and convenience of a digital workflow to meet the demands of a fast paced mega city.
However, through this commercial transition many of the old studio archives were abandoned and left to slowly deteriorate in humid conditions. The artist spent a number of years acquiring the discarded negatives from a number of sources, in an attempt to ensure that the images were not lost over time, and an invaluable history erased.
The archive hopes to serve as a historical record of Lagos, showcasing the talent of a generation of photographers who captured the style, humour and aspirations of everyday Lagosians.
The projects research is supported by The Arts Council England and will culminate in an exhibition and publication.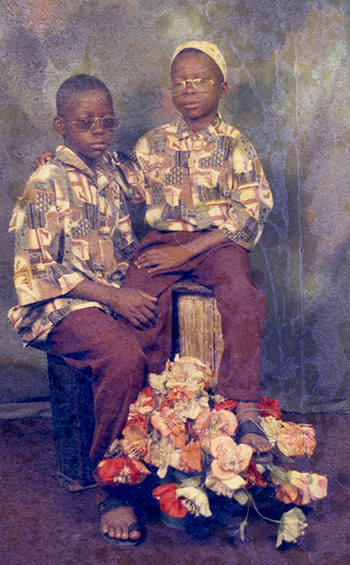 Two Boys With Flowers, (Circa 1990s)